For many of us Latinx people in the 90s, Selena was a living legend and even years after her death her music and fashion still move us. When my friend Perla aka blogger Xicana Mama invited me to her son's Selena-themed birthday party, my mind was already dancing "La Techno Cumbia" with costume ideas!
Related: How to Create a Lotería Card costume for under $10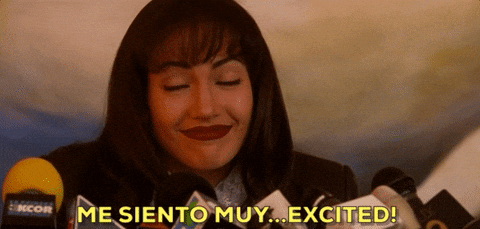 I had a few weeks to prepare, but guess what … yer girl WAITED UNTIL THE DAY OF TO START WORKING ON IT. Here's how I created my last-minute Selena costume. 
INSPIRATION AND ITEMS NEEDED
I looked through Selena's countless looks and found one that worked with what I already had in my closet. Also, I had to channel her sewing and creative energy because La Reina de La Cumbia made most of her outfits.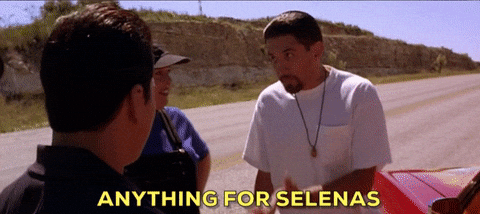 Items needed:
White buttoned-down shirt
1 1/2 yard of bed skirt trim or wide lace
Black faux leather jacket
Black pants or leggings
Big ol' hoops
Sewing machine
RUFFLES, RUFFLES, AND MORE RUFFLES (the frill, not the chips)
I started with rufflin' the lace trim on my white button-down shirt. I got this lace trim from an old bedsheet I bought at Goodwill for about $1, but I'm sure you could find something similar to it at Joann's. 
I used a ruffle tutorial on YouTube to learn how to fluff because I've never used this technique. You'll want to stitch the trim onto the shirt and sleeves and then use the sewing machine to fluff. This was the first pass and I showed my husband and he was like "MORE RUFFLES." 
Back to the sewing machine and I added more rufflin' to the lace down the front and on the sleeves. 
ANYTHING FOR THE RUFFLES!
I put on my black leggings and jacket and with a rose in hand, my husband Jose and I headed to my nephew Kabil's birthday party. We made it on Mexican time, meaning 30 minutes late! 
Yes, I know the rose isn't white like Selena's favorite, but that's all I had!
Kabil was so cute as a little Dino! See the rest of the Selena-inspired party photos on Perla (Xicana Mama's blog). She had white roses on purple-covered tabletops, a glittering photo backdrop and of course Selena's favorite food PIZZA! It's my favorite, too. 
Photos by Perla Farias.
The Farias-Portugals are the cutest family ever! Thank you for inviting us!
P.S. Be careful when you're eating birria while wearing ruffles!
Tag us @subculturerecall on Instagram when you make your Selena costume! Happy creating!!!