Christmas may play second fiddle to my love for Halloween, but you bet I had to go all out this year with the holiday and the last Star Wars movie in the trilogy, The Rise of Skywalker, being in the same month. I'm especially excited to see it this week with our friends Vanessa and Robert, aka Officially Late to the Party, in Tucson!
Related: How To Make a Budget-Friendly Demogorgon
Every year, we deck our home with everything Star Wars, we made a YouTube video on how we did it a couple of years ago.
This year we sought the help of our photographer and friend Noemi Gonzalez for our Star Wars-themed family/holiday photos. I loved how they came out!
A quick close up on Loki's face…
Another closeup on Loki's face. He's saying "These are not the droids you are looking for."
We went with a lovely black Christmas tree to match our dark Imperial souls. Also, it's super trendy this year and it was on sale for $25.
I wanted to make personalized stockings for me, Jose and the pups, but I ran out of time, so these personalized ornaments will have to do this year.
We got the whole Star Wars gang here, both light and dark sides. The rest are scattered around the tree and on our Star Wars wreath.
Can't forget the "star" on top of the tree.
After decorating the tree, we tried posing the dogs. These are the best photos Noemi took of them.
I guess Eevee needs sunglasses when she's staring at the two-sun sunset on Tatooine.
I hope you enjoyed these photos as much as we did! If you want us to send a holiday card to you, let us know you read this blog and email us at subculturerecall@gmail.com.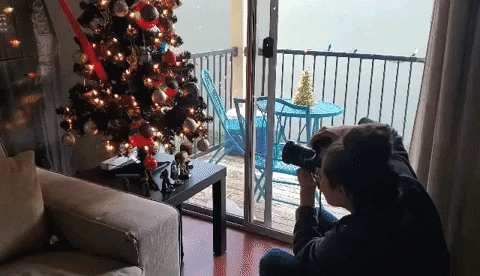 Also, check out our friend's website, if you're interested in hiring her for portraits, weddings, etc. She's amazing!
Happy Holidays and Happy New Year! See you in 2020, until then follow us on Instagram!
Con amor,
Thania, Jose, Eevee and Loki