If you're anything like us, we're notorious for coming up with last-minute costumes porque we're lazy. With only a week before Phoenix Comicon (called that a time), we wanted to create a costume that connected with our Mexican culture and love for Disney.  We combined our favorite game growing up Loteria and Disney's Little Mermaid to help you create your own card costume for under $10.
Related: How to Make a Millennial Loteria Card Costume
Also, what better way to celebrate Hispanic Heritage Month than creating a costume that reflects your culture, right?
Materials
2 whiteboards (36″x40″) – $3 each at Hobby Lobby
Gorilla glue -$3
Acrylic paints -$1 or less each
Paintbrushes – $2
Painter sticks (free at Walmart or Home Depot)
Directions
(watch YouTube video above)
Pro-tip: If you don't have strong drawing skills (like me), find someone who does or you can project the image on the board and trace it from there.
I wear this costume once a year to Phoenix Fan Fusion because it's a crowd-pleaser.
If you're in the Phoenix area and want to buy the "Chalupa" card, let us know. Email us at subculturerecall@gmail.com
Loteria costumes to inspire you!
https://www.instagram.com/p/Bpn9O_qh-fN/?utm_source=ig_web_copy_link
There are so many cards to choose from, but you always put your own twist on the card. What are you going to be for Halloween this year?! Happy creating!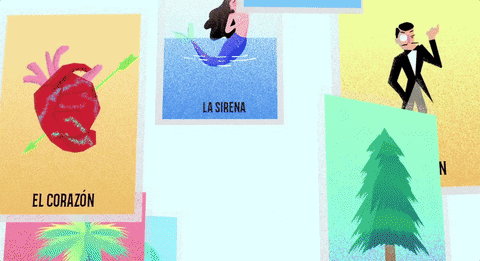 Gif by @jozedaniel