I'm proud to say my first sewing project on my new machine included a Doctor and a blue time-traveling phone booth, without any trouble from any Daleks. Here's how you can craft and celebrate your favorite Doctor on Tardis Day.
Related: How to Make Geeky Greeting Cards – Free Template & Tutorial
One of the many reasons why I got a sewing machine was because I wanted to gift people things I made.
So, when Faby, my friend and fellow Whovian, pointed out this Doctor Who fabric at the store, I knew I was going to make her a DIY zipper pencil pouch and dice bag.
As always, I had no clue what I was doing so I called on the YouTube goddesses to help me out. I followed the tutorials of MADE Everday and TheOneTAR to guide me in my cluelessness. They made it simple to follow along, and all you need is your favorite fabric, zipper and ribbon!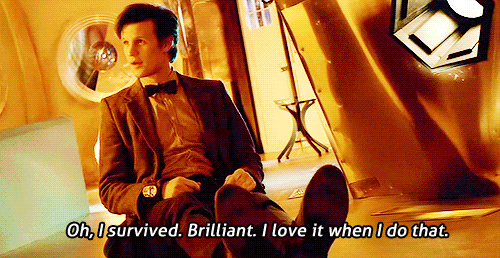 Here's the finished result! The stitches are a bit wonky but I survived my first craft project on my new machine.
I mailed it out all the way to New York for Faby, and she loved it enough to Instagram it!
If you want to go the extra lightyear, make a Tardis greeting card with our free template!

Whovian makers' DIYs
Get inspired by these makers' DIYS and create your own Doctor Who-inspired crafts!
Have a happy Doctor Who Day! Follow us on Instagram @subculturerecall and watch us on YouTube!