Turning 26 years old should mean I want to throw a fancy, dignified adult party — well, not for me. For my birthday, I wanted to cross something that has been on my bucket list for a very long time — I threw a Harry Potter themed birthday party (also, this was my husband Jose's gift to me he — helped with most of the DIY in this blog)! Of course, what's a party without all my mature and sophisticated adult friends?
Now, there was little problem that most muggles like me encounter … I'm not Harry Potter rich and I'm living on a budget! I can't wave a magic wand and money will appear. After doing much research through YouTube, Pinterest, etc. I found the most budget friendly ways to throw a Harry Potter party.
Here is a breakdown of how I threw an HP party (for 20 guests) without breaking the Gringotts bank. Mind you, most of this was DIYing, so you'll need to take time to do most of these things.
Platform 9 3/4 door cover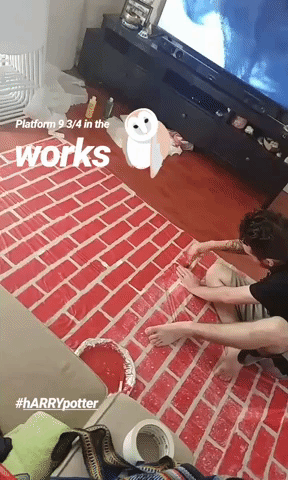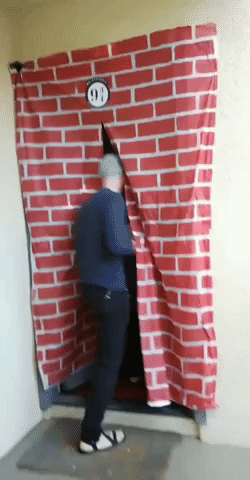 White vinyl table cloth – $1
Sponges for brick shapes – $1
Red and brown paint – $2-3
"Platform 9 3/4" printable – Free (see below for printable link)
Harry Potter's letters shooting from the "fireplace"
Letter size white paper – $.01 per sheet
Fishing line – $2
Stamp seal – $10
Seal wax – $11
Black marker – $2
We spent a bit more on a customized stamp and wax because we know we would get more uses out it after this DIY like for our business or sending letters to family and friends.
Write Harry Potter's address on the letters, but replace with your guests' names to give it a personal touch!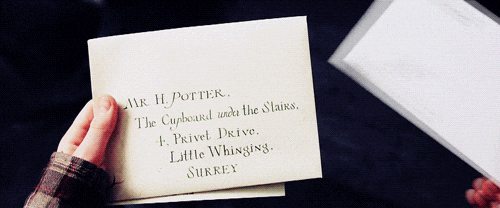 Hogwarts castle walls and banners 
4 plastic panels of castle/dungeon walls – $1 each (Dollar Store)
Fabric for banners – $12 in total, for 4 yards of different silk fabric
Printable logos – Free (see below for printable link)*
Make whatever banner template and sew or glue your shapes, and then glue on your paper house crests.
Potion bottles 
Glass bottles – $1-2 each
Potion printables – Free (see below for printable link)*
Floating Candles 
24 pack (flickering) – $9
White paper or toilet paper rolls
How to: Step-by-step instructions video
An extra magical touch of decor
Hedwig and cage – $10, the cage was something my mom had lying around the house and I spray painted it gold
Maruader's Map scarf – $2 (Goodwill)
Suitcase – $20 (can be found at thrift shops)
Enchanting games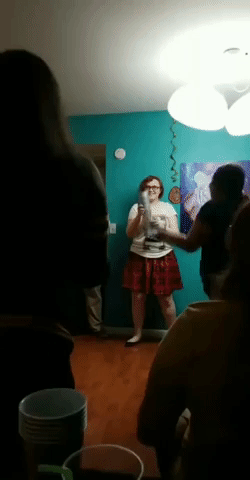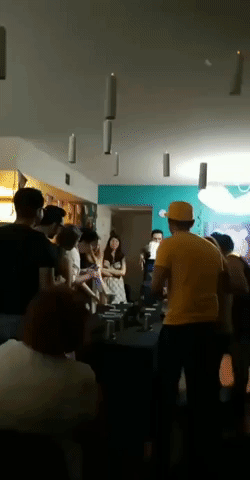 Harry Potter trivia game – Free (click here for my questions and answers)
Flip cup + Other cup games – $5 for 50 cups (you won't need that many)
$1 pin-pong balls for Tilt-A-Cup, which was the party favorite.
To add a competitive element, team your guests by Hogwarts house and have them play against each other. It was entertaining how heated the Gryffindor-Ravenclaw rivalry got.
Costco pizza, chocolate frogs, polyjuice potion and vegan Harry Potter Birthday cake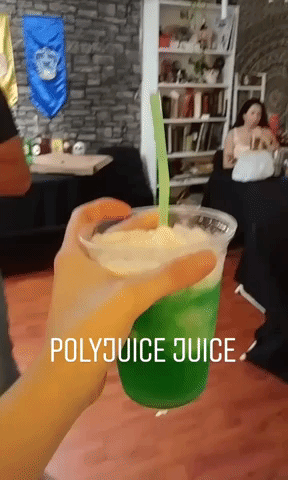 Pizza – prices vary, but Costco large pizza $10 each is my go-to
Chocolate frogs – $5 mold and $20 for 4 lb. bag
Polyjuice potion – $3 for sodas, $3 lemon sorbet, $10 vodka (full recipe, can be non-alcoholic for the kiddos)
Harry Potter Birthday cake – Gift from my friend Alex. See her full recipe here.
Accio party favors!
"Snitch" Ferrero Rocher chocolates – 12 pieces for $10 (w/ paper wings)
Harry Potter erasers – $.75 on clearance at Walmart
Party decorations total: $70
Food total: $30
TOTAL: $100 muggle bucks!
Muggle-money saving tips:
Look what you have at home before you start shopping
Ask family or friends if you can borrow or buy an item off of them
Check out the Dollar Store for the best and cheap Halloween decor
Look at Offer Up for any materials you need
I went to Goodwill on 50 percent Saturdays where I found a lot of things I needed like the potion bottles that were about $1-$2 each
An affordable, easy DIY Harry Potter party is possible! Follow these tips and get creative!
I want to thank all my friends who came to my birthday party, especially Caitlin O'Hara and Alex Araiza who took photos and videos for me to put on this blog. This was the best birthday party I've thrown. I was afraid it wasn't going to come together because of the budget, but it came out "bloody brilliant"!
*All the printables I used for the party can be found here.