If you've come here for an exact replica of an Infinity Gauntlet and/or a full, in-depth review of Marvel's "Avengers: Endgame", it's best to close out of this blog and then throw your phone/laptop out of the nearest irl window. Friends, we're keeping this tutorial/review short and "perfectly balanced". Too soon? *Snap
OK, wow that was dramatic — but then again I had to channel the biggest drama queen in the universe for my Thanos-Disneybound outfit and Infinity Gauntlet DIY for the early screening of the last chapter of the Avengers saga. This getup and gauntlet were quick and inexpensive to make. But, if you're really only here for a review, here it is ….
THE REVIEW/TIPS (NO SPOILERS I PROMISE)
Bring tissues — there will be happy and sad tears (at least for me there was). Go to the bathroom before the movie because it's 3 hours long. The movie is a banger. 10 out of 10, would turn back time to watch again. My husband Jose wants to add that the pacing was spot on (that's filmmaker lingo for the movie didn't have a dull moment). Also, he cried which rarely happens for him during movies. Our friend at Pura Vida can vouch for us that a lot of the movie-goers were teary eyed through most of it. Go check out her blog on it!
ALSO, DON'T STAY FOR THE END CREDITS SCENE BECAUSE THERE ISN'T ONE. YOU'RE WELCOME I JUST SAVED YOU 15 MINUTES OF YOUR LIFE. Side note: I can't believe I trusted Marvel with my small bladder; I watched a 3-hour movie and still stayed for the damn end credits. But, my experience watching Lord of the Rings: Return of the King was worse — I would rather not talk about that.
CLEANING GLOVE-INFINITY GAUNTLET DIY
Like I mentioned before, this is not an exact copy of the real gauntlet — I know this kitchen glove version looks uncanny to the movie's version but it's not. To be honest, I was going to make this craft last year for our "Infinity War" movie review, but I never got around to it even though I had bought the materials from my local Dollar Tree (except Sharpie and crazy glue). By the way, I spent under $5 on this craft! It's so simple to create, too!
MATERIALS YOU'LL NEED:
Yellow, latex cleaning glove
6 flat glass marbles aka your Abuelita's vase fillers
Glitter glue pens (orange, red, yellow, blue, purple and green)
Gold metallic Sharpie marker
Crazy glue
Reference image: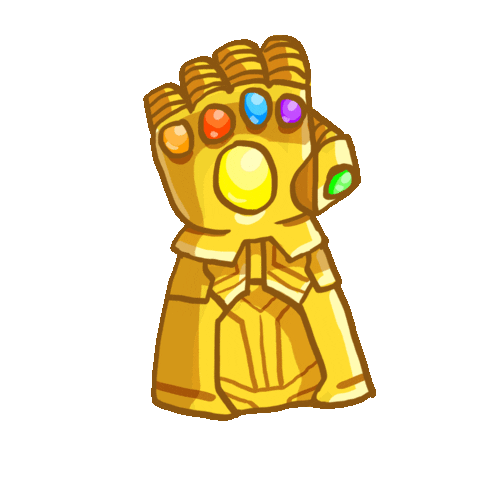 Directions:
Start glitter gluing the glass marbles with each Infinity Stone color. Let the first layer dry, and then paint another coat for added coverage.
With a pencil, outline any design on the glove. I improvised and used this illustrated gauntlet as my reference. Then when you're content with your design, outline with the gold metallic Sharpie pen.
Once all six glass marbles are painted, add crazy glue to the backs of them. Place them on the knuckles of the yellow glove.
Let dry and you're ready to screw over the entire universe. Don't forget the gloves are multi-purposeful for all your household cleaning needs.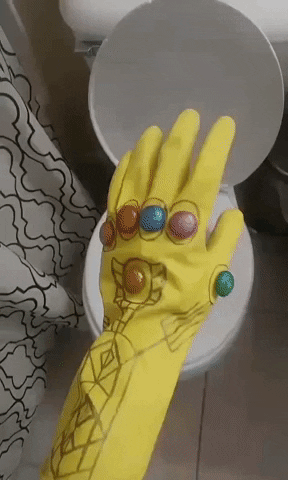 THANOS DISNEYBOUND OUTFIT
Mind you, I put together this the night before the movie screening. I found inspiration from my favorite Disneybounder Followtheyellowbrickgirl who always has spot-on Disney character-inspired outfits. I learned from her it's all about color matching and accessories. I believe for my first time Disneybounding, I did a great job with the short amount of time I had.
I went for a brighter color palette as seen in Marvel Animated Universe version of Thanos, but honestly it's because those were the clothes I owned.  I grabbed a close enough purple-colored skirt, and a royal-blue tank. Also, I searched deep into my jewelry box and found an old gem necklace which coincidentally had six yellow stones! I applied my glitter-glue method and painted each jewel with an Infinity Stone color.
Putting together this outfit before watching the last Avengers movie screening was fun, and it definitely got me hyped for it! I would love to see what you wear to see this movie, whether it's Avengers cosplay and/or a Disneybound outfit. Follow and tag us on IG @subculturerecall!
"Avengers: Endgame" officially premieres April 26 in the US.
Happy watching!